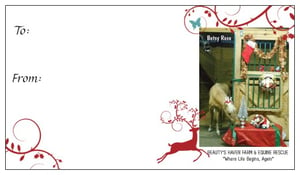 $

5.00
Holiday gift tags featuring Betsy Rose!
Gift tag is 3.5" x 2". Package of 50 tags. These do not have adhesive on the back of them.
Suggested donation: $5.00 plus $2.50 shipping (up to 3 sets of 50)
IMPORTANT: In accordance with Chapter 496.411, Florida Statutes, the Solicitations of Contributions Act, the following information is provided: Charity Name/Location: Beauty's Haven Farm and Equine Rescue, Inc./Morriston, FL; Florida Charity Registration #: CH21245. EIN: 20-4783950.
"A COPY OF THE OFFICIAL REGISTRATION AND FINANCIAL INFORMATION MAY BE OBTAINED FROM THE DIVISION OF CONSUMER SERVICES BY CALLING TOLL-FREE 1-800-435-7352 WITHIN THE STATE OR OUTSIDE FLORIDA AT 850-410-3800. REGISTRATION DOES NOT IMPLY ENDORSEMENT, APPROVAL, OR RECOMMENDATION BY THE STATE." Also see: www.800helpfla.com.
"The percentage, if any, of each contribution that is retained by any professional solicitor that has contracted with the organization" = Zero %. Beauty's Haven does not use professional solicitors. "The percentage of each contribution that is received by the organization" = 100%